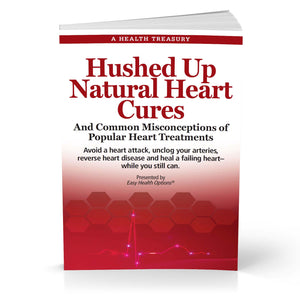 Easy Health Options
Hushed-Up Natural Heart Cures
Avoid a heart attack, unclog your ateries, reverse heart disease and heal a failing heart — while you still can
Regular price
$29.95
Sale price
$39.95
Unit price
per
Dr. David Walters, chief of cardiology at the University of California, San Francisco, says, "The overwhelming number of heart procedures done these days do not affect patients' life spans at all.'
Shocked? You should be. Especially considering that every 34 seconds someone dies of a heart attack and for 50 percent of these victims, there are no warning signs.
Don't let the old school medical establishment play with your heart health! Order this urgent special report today and discover…
New cutting-edge natural secrets for avoiding a heart attack and reversing heart disease…
The biggest heart treatment deceptions and rip-offs in America today…
The sobering facts about traditional heart treatments nobody else has dared tell you…
And many more new and scientifically proven secrets for reversing atherosclerosis, protecting your heart and adding years to your life — safely and naturally!
---
Share this Product
---