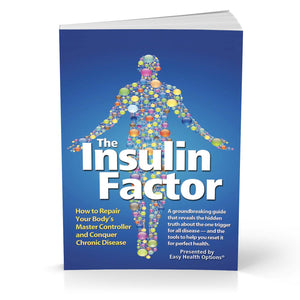 Easy Health Options
The Insulin Factor: How to Repair Your Body's Master Controller and Conquer Chronic Disease
A groundbreaking guide that reveals the hidden truth about the one trigger for all disease — and the tools to help you reset it for perfect health.
Regular price
$29.95
Sale price
$39.95
Unit price
per
Did you know there's a master control hormone in your body?
When it's working right, you can prevent almost every chronic disease… but when this master hormone is not working right, you have a much greater risk for every disease, even cancer.
Conventional medicine does NOT want you to know the truth about this. They only want you to take their synthetic drug as a band-aid. But you can rejuvenate this master controller… and do it easily — without medication.
After years of research, what I've uncovered will help you disease-proof your body and turn it into a supercharged vitality machine against any chronic condition!
The Insulin Factor isn't a book at all. It's a protocol and guide, and a reference you can use for life! Add it to your shopping cart today and discover…
The forgotten nutrient that shields you against cancer, leukemia, & heart disease!
Mainstream medicine's blunder you need to ignore for a life without disease!
How to use the most effective cellular shield on the planet!
How to enhance your brainpower and possibly slash your dementia risk by 50%!
Why you must repair your "bioblasts" and solve your energy crisis!
And more!
---
Share this Product
---